Glass in dive masks seems like it should be a pretty basic topic, right? Every dive mask needs glass lenses or a faceplate, and glass is glass! However, anyone who wears optical glasses knows that there's a lot of complexity that goes into glass manufacturing. There are all kinds of anti-reflective coatings, polarizing tints, and anti-scratch treatments you can get for your lenses (to the point it is something of a racket). Technologies that have been common in optics for decades are now making their way into dive masks.
Am I buying a dive mask or a pair of glasses?
For example, the following is a product description for a high-end SCUBA mask at a popular online dive shop:
Ultra clear is a new and exciting optical quality tempered glass with exceptional clarity and high light transmission, with no color distortion. The exceptionally high light transmittance and lack of distortion in the ultra-clear lens maximizes the light available for improved visual acuity, especially underwater in low light conditions.

The Scuba Pro Synergy TRUFIT Twin Mask at Leisure Pro
Here's another one:
Up to 15% of available light can be lost with a standard glass lens due to impurities and reflectivity. TUSA's CrystalView lenses with UV/AR treatment transmit up to 95% of available light to the diver for clear, crisp vision.

The TUSA Paragon Mask at Leisure Pro
Language like this is becoming increasingly common for premium dive masks, yet many customers find it quite confusing!
What do made-up brand names like "UltraClear" and "CrystalView" even mean? What is "optical quality tempered glass"? And perhaps more importantly, do claims regarding increased light transmission and improved vision have any credence?
If you're going to be dropping $200+ on a dive mask, you want it to be worth it, right?
So lets shed some light (pun intended) on the glass used in dive masks. Specifically, let's talk about how the glass is made, and go over some of the basic physics behind light transmission, refraction, and reflection in glass.
It turns out that tempering, improved clarity, and ARC (anti-reflective coating) technology all have demonstrable effects on glass quality. However, how important (or even perceptible) those effects are to you as a diver is much more subjective!
Tempered Glass in Dive Masks Explained
Let's start with a fairly ubiquitous standard for glass in dive masks: tempering. Most divers know that their dive mask should have tempered glass for safety and durability, but how does that actually work?
What is tempered glass?
Similar to the concept of tempering steel, tempering glass involves special thermal or chemical treatments that make it stronger relative to untreated glass. Specifically, tempering creates high compressive stress on the outer surfaces of the glass. High tensile stress in the body of the glass balances the compressive stress.
The science of glass tempering
How does this work? In practice, a prepared sheet of glass gets put through a tempering furnace. The furnace heats the glass to the point it becomes slightly viscous, but not so hot that it loses its shape (about 620°C).
Next, high-pressure air blasts rapidly cool the surface of the glass. This procedure (called quenching) causes the surface of the glass to cool faster than the interior. As the hotter interior slowly cools it tries to pull away from the cooler outer surface, creating tensile stress inside the glass and compressive stress on the surface of the glass.
The resulting balance between surface compression and interior tension is what gives the tempered glass its strength. To be classified as "tempered", the compressive stress at the surface of the glass must be at least 10,000 psi.
After tempering, the glass typically can't be cut, ground, drilled, or otherwise altered without shattering it. As such, tempering is usually a final step in glass manufacturing.
Tempered glass is also safer than untreated glass
Because of the compressive stress at the glass surface, tempered glass is very resistant to micro-cracks and crack propagation. Not only does this mean that tempered glass can withstand greater temperature and pressure ranges than non-tempered glass, but when it breaks, it will shatter into blunt granules instead of sharp splinters and shards.
You'll see tempered glass in everything from car windshields to electronics and even some kitchenware! Ever dropped a drinking glass and have it sound like marbles or ice-cubes crashing to the floor? In fact, broken pieces of tempered glass look a lot like broken ice-cubes; rough but not at all dangerous to touch and pick up.
Why look for tempered glass in dive masks?
All top quality diving masks will have a tempered glass faceplate or lenses. This feature should be indicated on the mask's packaging, online product description, or even the mask itself.
Tempered glass is important on a dive mask so that the mask can safely handle the pressure changes at depth and the wear and tear of being routinely bumped, packed, and cleaned. The lenses or faceplate will be less likely to scratch or crack, and if they do, the faceplate will safely shatter into blunt granules, not shards or splinters.
The lenses or faceplates on cheap masks can be made with untreated glass, or even polycarbonate plastic instead of glass, which is prone to scratching and isn't suitable for much beyond playing in a pool!
UltraClear Glass in Dive Masks Explained
Alright, so tempered glass is an important safety and durability feature that all dive masks should have. So what's left to improve?
Well, that's where low iron glass comes in!
Low iron glass
Standard tempered glass that's 1-2 mm thick (roughly what you'd get in a dive mask) has a light transmittance of about 84%. You may also notice that tempered glass has a slight greenish tint.
You make glass by heating silica (silicon dioxide) sand particles, which are tiny quartz granules, to molten temperatures. However, silica sand typically contains trace amounts of iron (ferric oxide).
The greenish tint you often see in standard glass comes from the iron content in silica sand. The iron also absorbs some of the light, reducing transmission through the glass. Standard tempered glass typically has a ferric oxide content of about 0.1%.
Tempered glass can be specially manufactured from low-iron silica for improved light transmission (resulting in higher clarity) and color fidelity. Low-iron silica can have a ferric oxide content as low as 0.01% and the resulting glass has over 90% light transmittance (and no green tint).
However, natural sources of low-iron silica are rare and purifying silica sand requires intense chemical washing processes. As such, manufacturers typically reserve low-iron glass for special applications that require maximum light transmittance and color fidelity.
For example, lenses for cameras, glasses, and other optical instruments all benefit from low-iron silica. Other common applications include glass for aquariums, display cases, and high-transmittance windows.
Atomic Aquatics and UltraClear
Glass manufacturers brand their low-iron glass products with names like "UltraClear" and "Crystal" to emphasize the high light transmittance and lack of green tinting.
For example, Atomic Aquatics was the first company to produce a dive mask featuring low-iron glass (which they termed UltraClear). Their entire lineup today features UltraClear glass.
The core lineup from Atomic Aquatics featuring UltraClear glass:
Several other companies now produce dive masks featuring low iron glass. For instance, Hollis describes their M1 Frameless Mask as "extra crystal clear" and "optical quality". Similar to Atomic Aquatics, Scuba Pro also refers to the low-iron glass in their Crystal-VU Plus Mask as "ultra-clear".
Why look for low iron glass in a dive mask?
The main advantage of low iron glass lenses is the superior vision they offer to some divers.
Low-iron glass is one of those things where you don't realize what you were missing out on until you try it. For most divers, regular tempered glass is perfectly sufficient. For you, the difference the low-iron glass makes might be minimal or not worth the cost. It seems to me that some folks will respond more strongly to the difference than others simply due to individual preferences.
Anyone who is visually sensitive or detail-oriented may appreciate a dive mask with low-iron glass. For example, do underwater photography or videography interest you? Do you do coral restoration work or fish identification that requires you pay close attention to detail? Once you try a mask with low-iron glass it might be hard to go back!
The depth at which you do most of your underwater activity may also make a difference. Light dims very rapidly with depth due to absorption by water. Therefore, a mask that allows more light to reach your eyes is especially valuable in a low-light environment.
ARC (Anti-Reflective Coating) Explained
Apart from low iron content, the other major innovation in dive mask glass is anti-reflective coating (ARC).
Remember how low-iron silica can increase the light transmittance of tempered glass to just over 90%? What about the remaining 10%?
The tempered glass reflects it back! And that's where ARC comes in…
Refraction Refresher
In case you need a bit of a highschool science refresher, refraction is the bending of light as it passes at an angle from one material to another. For example, refraction is why images look distorted through a glass of water.
A refractive index is a number that quantifies this bending effect for a specific material. For example, the refractive index for air is 1.0. But for water, it's 1.3 and for glass, it's 1.5. The greater the difference between each material's refractive index, the more the light will bend when passing between them. So, light bends more passing between air and glass vs. water and glass.
The angle of the incoming light affects refraction too. Light passing straight through from one material to another (at a 90°angle) will not bend and will transmit fully. At an angle, some light will reflect while the rest will refract (bend). When the angle is shallow, not only will the refraction be more pronounced, but less light will be transmitted.
At shallow enough angles, all the light will reflect off the other medium instead of refracting. That's why glass can be hard to see through at certain angles and why a calm ocean reflects the sunset with such spectacular beauty.
What is Anti-Reflective Coating (ARC)?
Because of refraction, glass will always reflect some light even if the glass is UltraClear or otherwise low-iron. This effect can also cause back-glare and ghost reflections in your periphery (from reflections bouncing off the inside surface of the glass) if you're wearing glasses, goggles, or a diving mask.
Anti-reflective coatings allow more light to transmit through the glass rather than reflect off of it.
The materials used to make anti-reflective coatings have refractive indices between those of air and glass. This allows most incoming light in the visible spectrum (up to 98%!) to pass through the glass.
Not only does this improve the contrast and clarity of the view, but it also reduces glare and ghost reflections. Some ARC materials even have graded indices of refraction that continuously vary to accommodate a broad range of light wavelengths. Because wavelength affects refraction too, accounting for it can improve light transmittance even further.
Prescription lenses make frequent use of ARC technology to improve the wearer's comfort and to make a person's eyes more visible (in flash photographs especially). However, ARCs are invaluable in every application that requires optical equipment such as photography, astronomy, and medical imaging. For example, the colored "shimmer" you see on camera lenses is a visual artifact from anti-reflective coating. You'll often see ARC-treated glass referred to as "optical-grade" glass as a result.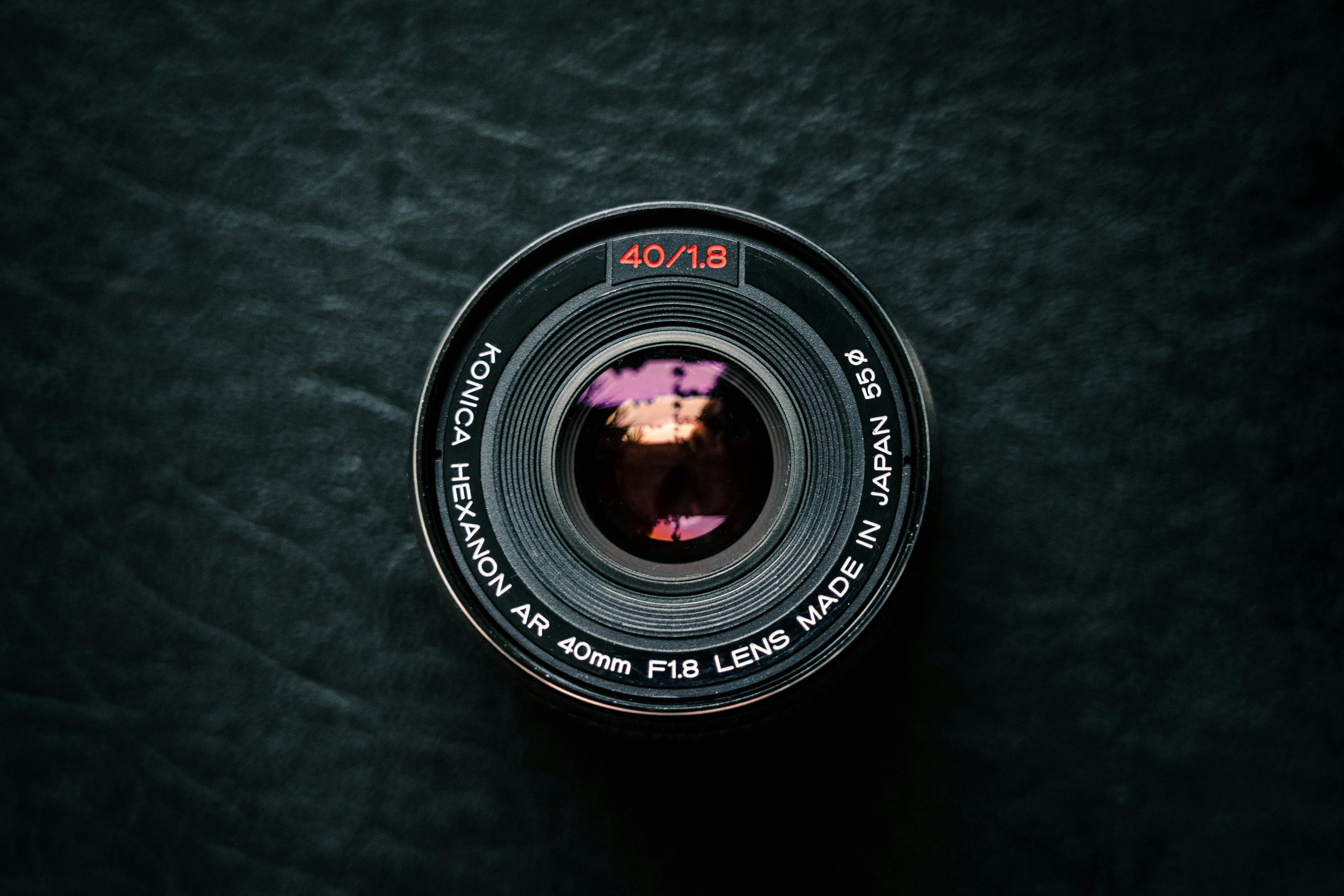 In more advanced forms, the anti-reflective coating consists of multiple layers. Material engineers design contrasting refractive indices into these layers to cancel out any reflecting wavelengths (destructive interference). The resulting glass has both high light transmittance and glare that is near to non-existent.
ARC UltraClear Glass in Dive Masks
In dive masks, ARC is typically a very thin (a few micrometers) coating of metal oxides applied to the surface of the glass. The coating on the front of the mask is engineered to accommodate the refraction between water and glass, while the coating on the inside (when present) accommodates refraction between glass and air.
Where dive masks are concerned, Atomic Aquatics again led the way with this technology, with other companies soon following suit.
The ARC technology in Atomic's masks uses multi-layer interference to account for different wavelengths of visible light and to eliminate reflections through destructive interference.
In promotional photos, the ARC coating is visible as a colored tint, however, this tinting is typically not visible in person. You may see a slightly tinted "shimmer" if you look at the glass at an angle (similar to the way camera lenses look). The color of the shimmer comes from reflections of the wavelengths of light for which destructive interference is less effective. Usually, these colors will be on the blue end of the spectrum, making the shimmer appear blue-ish or purple-ish.
Why look for ARC glass in a dive mask?
The main advantages of ARC glass lenses are higher visual acuity and reduced back-glare for some divers.
Have you ever found that colors are just a bit washed out through your dive mask, especially as you get deeper? That's because water absorbs light very quickly, leaving predominantly blue wavelengths at depth. As such, ensuring your mask is letting through all the light it can is a priority for many divers.
Do you like to dive in low-visibility conditions, such as very deep (e.g. technical diving) or at night? Then UltraClear ARC will ensure none of the precious light available to you is wasted.
On the flip side, do back-glare or ghost reflections in your mask ever bother you near or at the surface? UltraClear ARC glass eliminates this problem, giving you glass that is practically "invisible"!
As you can see, many of the advantages of ARC or similar to that of low-iron glass. Combined, the effects are simply greater. So, if you don't notice a perceptible difference between regular tempered glass and low iron glass in your dive mask, an AR coating may make more of a difference for you.
I know I personally can't go without ARC on my eyeglasses, and though I love my current dive mask, I do notice annoying ghost reflections from time to time on sunny days even though my skirt is opaque. At angles, my eyes are also invisible to my buddy due to reflections, which is an important safety consideration for some folks.
All that being said, don't forget the most important feature of any dive mask…
Fancy glass is pointless if the mask doesn't fit properly!
The reason I love my current Cressi Matrix mask, even though it just has regular old tempered glass lenses, is because it fits my face really well. Though I'll jump at the chance to try a dive mask with low iron glass and ARC when I can afford it, my primary concern is still going to be fit! After all, what's the point of an amazing view if it's getting flooded with water constantly?
So to summarize… Is ARC and low-iron glass in dive masks worth it?
The benefits of low-iron glass and ARC in dive masks are often exaggerated due to typical marketing lingo that's trying to get you to buy the mask. That being said, these technologies are not without merit either. Just as in eyeglasses and other optical equipment, they do improve light transmission, color fidelity, and color contrast. How noticeable those differences are to you depends on your personal preferences as a diver.
If you personally enjoy the visual improvements these masks provide (assuming they fit your face and your budget) then they are "worth it"!
Have you used a mask with low-iron glass or anti-reflective coating? Did it make a significant difference for you? Let me know in the comments!
Related Posts
What to Look for in a Dive Mask? Top 5 Quality Indicators
Framed Vs. Frameless Masks: Pros and Cons
Low-Volume Masks: Not Just For Freedivers!
Disclaimer
Some of the links used in this article are affiliate links (learn more here). That means I may get a small commission if you buy a product after following the link (at no extra cost to you!). If this article helps you in your quest for a quality dive mask, consider it like giving me a little thank you!