We've all heard the news about thinning ozone and increased rates of melanoma. On the other hand, we've also all heard the news about vitamin D and seasonal affective disorder. Doctors keep telling us how important it is to cover up in the sun, but in the same breath emphasize how healthy sun exposure is too. Add snorkeling to the mix and things get even more complicated. Swimwear typically offers less coverage than regular clothing, and sunscreens may have devastating effects on coral reefs. How are you supposed to balance all this information while having a good time on your next tropical vacation? The answer is to rely on sun protection clothing that's designed for snorkeling and other water sports!
Sun protection clothing for snorkeling includes swimsuits, rashguards, leggings, and wetsuits that have a rated ultraviolet protection factor (UPF). These clothing items give you better protection than sunscreen. That means both you and the coral win! By adjusting your coverage based on your specific circumstances (e.g. skin color, latitude, time of day, etc.) you can reap the benefits of healthy sun exposure while minimizing sun damage.
What causes sun damage? Ultraviolet radiation
The sunlight that reaches the earth's surface consists of multiple wavelengths of electromagnetic radiation. Visible light constitutes the wavelengths that human eyes have evolved to perceive, and gives us the classic visible spectrum rainbow.
However, beyond the visible spectrum, there are wavelengths of light that we cannot see. On the red, low-energy end of the spectrum, there is infrared light, which some animals like snakes can perceive. On the violet, high-energy end of the spectrum, there is ultraviolet light, which is visible to many insects and birds.
Ultraviolet light is divided into three categories depending on the wavelength, which is measured in nanometers (nm): Ultraviolet-A, ultraviolet-B, and ultraviolet-C.
Ultraviolet-A (UVA): 315-400 nm, lowest energy (soft UV)
Ultraviolet-B (UVB): 280-315 nm, higher energy (intermediate UV)
Ultraviolet-C (UVC): 100-280 nm, highest energy (hard UV)
UVC rays are entirely absorbed by the ozone layer and the rest of the atmosphere, so none of it reaches the earth's surface.
UVA rays can penetrate the atmosphere and can contribute moderately to skin damage. This is the type of ultraviolet radiation that blacklights emit.
UVB rays contribute the most to sunburn, skin damage, and melanoma. The ozone layer blocks some of these rays, but more UVB radiation reaches the earth's surface in regions where the ozone layer is thin. Incidentally, UVB rays are also necessary for your body to produce vitamin D. Quite the double-edged sword, no?
Factors that affect UVB levels
Apart from the quality of the ozone layer in a given region, other atmospheric and geographic factors can affect UVB levels as well. For example, higher altitude areas tend to experience more UVB exposure because the atmosphere at high altitudes is thinner. Conversely, thick cloud cover with no blue sky patches can absorb a lot of incoming UVB radiation.
The other major factor influencing UVB exposure is the angle of incoming sunlight. The more direct the exposure of the earth's surface is to incoming rays (close to or at an angle of 90 degrees), the less atmosphere there is to absorb it. That's why the greatest risk for UVB exposure is near the equator, during summer months at high latitudes, and during the middle of the day.
Clothing offers the best sun protection while snorkeling
Sun protection clothing is far superior to sunscreen when it comes to blocking UV radiation. For one, sun protection clothing absorbs both UVA and UVB rays, whereas most sunscreens only absorb in the UVB range. To be effective, sunscreens also require frequent reapplication (every couple of hours at least, moreso if you get wet). You only have to put on clothes once! Clothing that has a UPF rating will always outperform even the highest SPF sunscreens.
Relying on clothing rather than sunscreen also has the added benefit of giving you some physical protection too. Even a thin rashguard and leggings can protect your skin from abrasive sand or rocks, not to mention jellyfish stings!
What is UPF (Ultraviolet Protection Factor)?
The UPF number indicates what fraction of incoming UV radiation (both UVA and UVB) will get through the fabric.
For example, clothing with a UPF rating of 5 will allow 1/5th of UV rays to penetrate (20%). Clothing with a UPF rating of 50 will allow only 1/50th of UV rays to penetrate (2%).
What kinds of clothes have the highest UPF?
The textile weave has the greatest impact on a clothing item's UPF. Other important factors include the fabric's weight and color. Some UPF clothing may even be pre-treated with UV absorbing compounds to enhance their protection.
1. Tight weaving
The denser a fabric's weave, the better it is at absorbing UV radiation. Commonly used textiles with naturally good UPF ratings include cotton, denim, wool, polyesters, nylons, spandex (lycra), silk, and bamboo. Obviously, not all of these textiles are suitable for wearing in water. Typically, synthetic fibers such as polyester, nylon, and spandex are best for swim garments. Neoprene, which most wetsuits are made of, will also block all UV rays.
2. Dark colors
Darker dyes (blacks, blues, indigos) are best at absorbing UV rays. However, as a result of light absorption, darker clothes will also generate more heat. On a hot summer day, this effect can be quite uncomfortable, but may work to your benefit if you're going to be wet for hours!
3. Special fabric treatments
Unfortunately, a fabric's UPF will go down when it's wet. Likewise, the tighter the fit, the worse the UPF. While snorkeling, your clothes will obviously get wet, and tighter fits reduce drag while moving through the water.
That means a lot of UPF clothing designed to get wet will also be specially woven to increase fabric density, and be specially treated with UV absorbing compounds. For example, titanium dioxide (the same compound that absorbs UVB rays in mineral-based sunscreens) can be embedded as nanoparticles into nylon weave. This keeps the clothing protective against UV rays even when wet.
A guide to sun protection clothing for snorkeling
The most common (and least expensive) sun protection clothing for snorkeling includes rashguards and leggings. For colder water, or folks prone to getting chilly, thin wetsuits and skinsuits are other great options. There are even some swimsuits with better coverage and weaving than your average bikini that will also offer decent protection. For your head, there are UPF bandanas, do-rags, and swim caps.
1. Rashguards and leggings
Rashguards were originally part of the surfer's wardrobe. However, they've since found a place in nearly all forms of watersports from paddling to freediving. Rashguards are typically form-fitting tops made from synthetic materials. They can offer complete coverage with full-length sleeves and neck collars or can be cut to a classic T-shirt style. Similarly, swim leggings are synthetic, form-fitting pants that cover your legs completely in the water.
The great thing about rashguards and leggings is that not only do they offer great sun protection but they also look really cool! Some of my favorite rashguards and leggings include the sea creature-inspired designs from Waterlust (the whale shark rashguard and leggings are on my wishlist!) Waterlust also carries swim shorts, swim tanks, and bandanas!
Whaleshark Warrior Swim Clothing (UPF 50+)
10% of the proceeds from Waterlust purchases contribute to ocean conservation causes including shark research, coral conservation, and coastal resiliency.
Snorkel Longsleeve Rashguards and Stirrup Leggings (UPF 50+)
Some companies have taken sun protection to a new level with their rashguards and leggings. Tuga makes UPF 50+ rashguards that have attached hoods and wrist straps, and leggings with foot stirrups. Their leggings even have small buttons for attaching the rashguard hem so there's no chance of any awkward riding up! Pretty awesome I think!
Generally speaking, aim for rashguards and leggings that cover the full length of the arms and legs and have a UPF rating of at least 40.
2. Wetsuits and skinsuits for snorkeling
Skinsuits are pretty much like rashguard onesies. Instead of a separate top and bottom, skinsuits fit over your whole body. They're also made from synthetic textiles and should be very form-fitting. I think they look fantastic on their own, but many divers like to wear these under their neoprene wetsuits too.
Here are some gorgeous patterned skinsuits from SlipIns Diveskins and Wetsuits! Like Tuga's rashguards and leggings, these skinsuits also feature foot stirrups and thumbholes for maximum coverage of your feet and hands. Sizes available range from XS to XXXL. SlipIns also makes rashguards, leggings, headbands, bandanas, and dive socks.
Women's DiveSkins (UPF 60+)
If you want a bit of extra insulation, then go for a neoprene wetsuit. You can get one that fully covers your arms and legs, or a shorty (T-shirt arms, mid-thigh legs) for a bit more exposure. If you're snorkeling in a tropical area, then stick with a thickness of 3 mm or less.
A wetsuit will be more expensive than a rashguard, but they last a long time when taken care of well. If there's a chance you'll use it for other activities besides snorkeling (SCUBA, freediving, surfing, etc.) then definitely consider investing in one! Wetsuits designed for surfers and freedivers will feel more flexible and less restrictive than ones designed for SCUBA divers.
Henderson Thermoprene 3mm Jumpsuit
Henderson is a top wetsuit manufacturer that's known for making wetsuits that fit women's bodies across a wide range of sizes. Their patented Thermoprene material offers more stretch and flexibility than standard wetsuit neoprene. That makes these wetsuits ideal for all kinds of watersports, not just SCUBA. The polychloroprene components of the Thermoprene are also derived from limestone, rather than petrochemicals, which makes their manufacturing less reliant on fossil fuels.
3. UPF swimsuits with high skin coverage
If you want to get a good snorkeling swimsuit, forget the Bikini Village and head to a sports store instead. Go for a two-piece suit with a tankini top and boy short bottoms. Not only will these give you a bit more coverage than a bikini but they'll also stay comfortably on your body while you swim around.
Related Post: Best Swimsuits for Snorkeling (Top 5)
Maldives High-Neck Tankini and Surge Short (UPF 50+)
For example, this is a swimsuit from Athleta that I sometimes use for surfing and snorkeling when I want a bit more sun.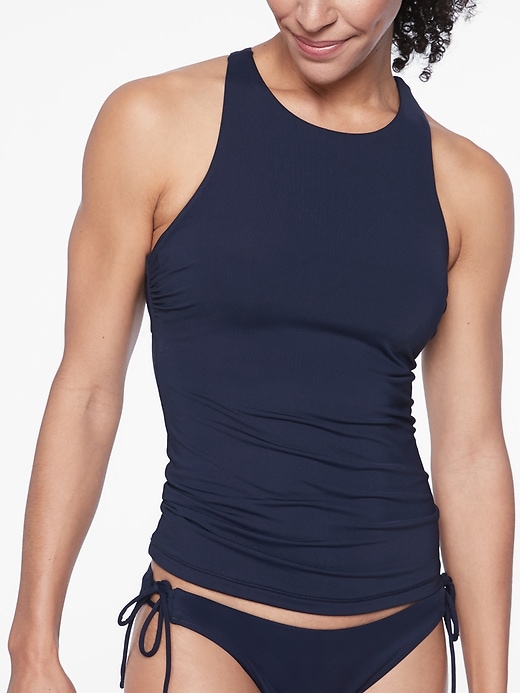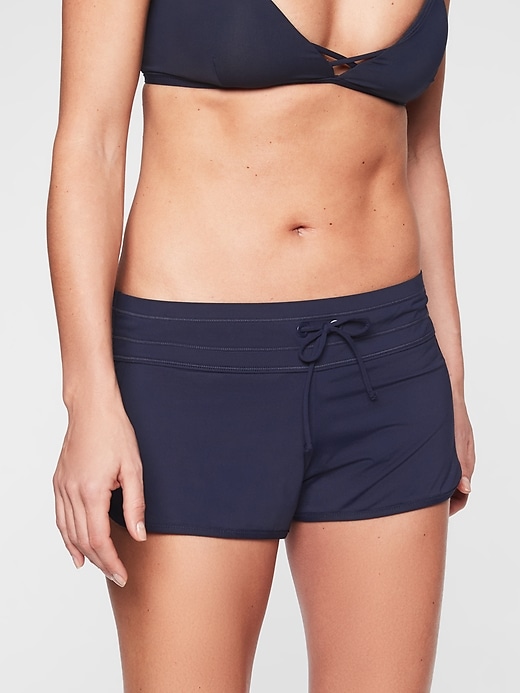 Deakin and Blue Swimsuits
Deakin and Blue (based in the UK) also have an amazing selection of sporty swimsuits for a wide range of body types up to size 24 and HH cups. Their swimsuits are also all made from recycled nylon fiber (recovered from discarded fishing gear and plastic)
Check price at Deakin and Blue!
You won't be accidentally flashing your fellow snorkelers with any of these swimsuits!
Tribong LT Men's Boardshorts
If you're up for a bit of experimentation, you can also try getting a pair of men's swim trunks! I have a pair from Billabong that I got just by making sure my waist and hip measurements would fit with them. It just so happens Billabong's board shorts have a slightly stronger hip-to-waist ratio than other surfing brands like Quiksilver (so take note, ladies!) I love these trunks because they're comfy and loose and cover my legs almost to my knees. That makes them awesome for sliding around on a surfboard without tenderizing the tops of my thighs! I also enjoy them for casual snorkeling.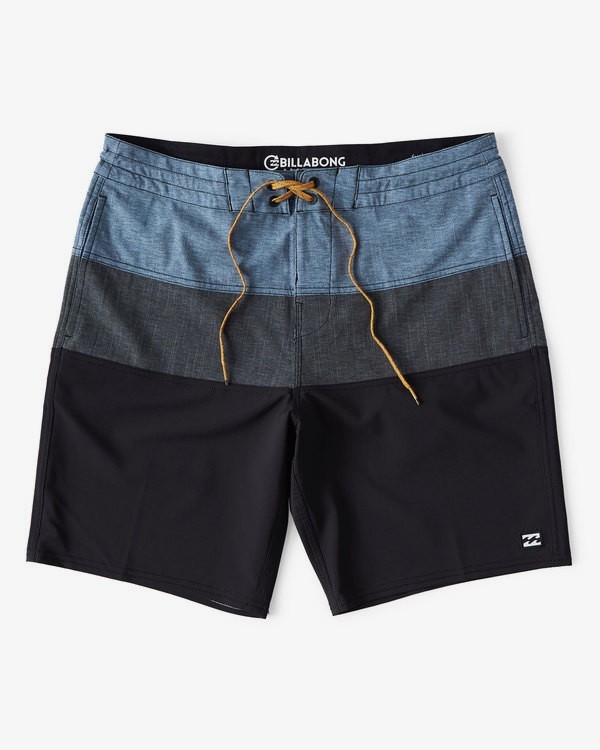 4. Sun protection clothing for your head while snorkeling
If you have very short hair or are thinning/bald then you absolutely need sun protection on your head as well as the rest of your body!
Original Buff Bandana
Many divers and snorkelers do fine with just a Buff bandana. These are the stretchy, colorfully-patterned tubes you can wear and tie in a bunch of ways. I like wearing them in my hair from day-to-day, but I also have one that I set aside for water activity.
The ScubaGoodHood
ScubaDorag also makes nifty bandanas and hoods that are especially great for keeping long hair out of the way. They also make hoods, tube socks, leggings, and a few other clothing items too.
Nammu Print Hats
For something more like a traditional swim cap, you can try Nammu swim hats. They come in a variety of styles from more bandana-like styles for underwater activity, to more hat-like styles for paddling, boating, and surfing.
5. How to protect your eyes from the sun while snorkeling
Your skin isn't the only thing that needs protection from UV damage while snorkeling. Make sure you're looking after your eyes as well! All that water just reflects more sun into your eyes!
Make sure you have a good pair of UV-blocking sunglasses for when you're on the beach or boat before getting in the water.
For snorkeling, consider getting a black-skirted mask. The silicone and glass lenses of quality dive masks will block most UV rays, but a black skirt will keep your eyes from getting overly fatigued by strong sunlight.
Related Post: How to Choose a Mask and Snorkel That Suits Your Face and Ability
What about "reef-safe" sunscreen?
Most sunscreens seem to be bad news for coral reefs. Though the precise details aren't yet fully resolved, there is evidence to suggest that regular sunscreens are damaging to coral zooxanthellae.
Related Post: Why You Shouldn't Touch Coral or Other Sea Life
There's a little thing conservation biologists often employ when advising on policy and management called the Precautionary Principle. Basically, even if we don't have enough data for a high degree of certainty in our hypotheses, it's best to err on the side of caution when it comes to conservation matters. The Precautionary Principle applies equally well to responsible snorkeling! That means unless we get new evidence that reliably exonerates regular sunscreens, we should refrain from using them in the water.
In particular, the following ingredients appear to be the culprits: oxybenzone (the primary UVB absorber), octinoxate, 4-MBC, and butylparaben. Keep in mind that many sunscreens that are labeled "reef-friendly" may still contain some of these ingredients!
With high UPF clothing, you may be able to forgo sunscreen entirely. If you're especially light-skinned, then apply sunscreen only to uncovered areas like your hands and face. To be safe, opt for a sunscreen that is mineral-based and biodegradable.
Additionally, be sure to apply your sunscreen at least half an hour in advance so it is both effective and won't wash off!
More ways to protect yourself while snorkeling (besides sun protection clothing)
Sun protection clothing will do a lot to keep your skin safe during your snorkeling adventures. But there are still a couple of other precautions you can take too. Especially if you want to show a bit more skin, consider adjusting the timing of your underwater activity to lower-risk hours and seasons.
1. Time of day
The risk of UV overexposure is greatest when the sun is directly overhead (at its zenith). Ideally, avoid snorkeling between 11 AM and 3 PM. You may need to get up earlier for a morning trip, but on the plus side, the wildlife will probably be more active! The same goes for dusk trips. If you're a photographer, the lighting at these times of day will also work in your favor.
For a special adventure, consider doing a night snorkel or a night dive. Marine ecosystems are incredibly dynamic. The same beach or reef will look completely different at night. You'll see new critters and new behaviors you won't see during daylight hours!
2. Time of year
If you're able to, consider taking your tropical vacation slightly off-season. Even though places like Mexico and the Caribbean are closer to the equator, there will still be a significant sun angle difference between summer and winter. The same goes for southern hemisphere destinations such as Australia, just at the opposite times of the year. As long as you're avoiding the December holidays, you'll also find that off-season times of the year will be less crowded!
3. Gradual exposure
When going on vacation, the rapid change in sun exposure can be quite a shock to your skin. The melanocytes in your skin have evolved to progressively generate melanin pigment when exposed to UVB rays. This gradual change resembles slower seasonal progression, not sudden plane-trips around the world!
Instead of lying in the sun for hours at a time immediately on arrival, limit your sun exposure to short periods initially (say half an hour or less). This will give your skin a chance to generate a nice, protective tan for you without getting a lot of sun damage. Obviously, how this works for you will vary based on your skin color. Sorry, whitest of white folks (looking at my blondie partner here, haha), but even limited sun exposure can damage your skin!
Summary: Sun protection clothing for snorkeling
UPF rated clothing offers the best protection from UVA and UVB radiation (even more than sunscreen)
Rashguards and leggings are the most cost-effective sun protection clothing items for snorkeling
Wetsuits are more expensive but can also be used for other watersports like SCUBA diving, freediving, and surfing
Use a bandana or swim cap to protect your neck and head
If you want to show some skin, compromise by wearing athletic swimsuits with better coverage than a typical bikini
Only use sunscreen on exposed areas or avoid it altogether (ideally use reef-safe brands)
Keep your snorkeling to low-risk times of day and seasons when possible
How do you protect yourself from the sun on your underwater adventures? Any clothing items or brands you especially love? Let me know in the comments!
More snorkeling reading:
Disclaimer: Some of the links used in this article are affiliate links. That means I may get a small commission if you buy a product after following the link. If this article helped you, consider it like giving me a little thank you!
If you want to keep updated on the content I produce here at Tide Trek, please consider signing up to my mailing list. At the end of each month I prepare a little round-up newsletter that summarizes new articles I've written, and content I've curated covering all things water sports (even some cool marine science too!)