If you're new to snorkeling, or even just swimming at a beach, deciding what you should wear can be a bit intimidating. This is especially true if you're a woman or otherwise femme-presenting. So let's go over what makes for good water sports attire. I'll even give you some examples of the best swimsuits for snorkeling that I've personally worn and encountered!
Hollywood movies and popular TV shows give the impression that beaches are full of jocks with washboard abs and bikini-clad bombshells. Now don't get me wrong, I love a cute bikini as much as the next person! But they're not always the greatest option for sportier activities like surfing, snorkeling, or SCUBA. Even so, promotional materials for these activities, such as for tours and gear, often portray women snorkelers and divers wearing bikinis! If this works for you, then that's awesome! But most of us are going to be far more comfortable in something that's got a bit more coverage and security.
What Makes a Good Snorkeling Swimsuit?
The best swimsuits for snorkeling have good coverage and sun protection
As a general rule, swimsuits with a UPF (ultraviolet protection factor) rating are your best bet for snorkeling and other water sports.
Sun protection clothing is far superior to sunscreen when it comes to blocking UV radiation. For one, sun protection clothing absorbs both UVA and UVB rays, whereas most sunscreens only absorb in the UVB range. To be effective, sunscreens also require frequent reapplication, which can be a pain when you're trying to enjoy the water!
Related Post: Sun Protection Clothing for Snorkeling (Shopping Guide)
If you're snorkeling on a tropical reef, then reducing your sunscreen use by relying on clothing will also be better for the coral. There are several ingredients in standard sunscreens that can stress and even kill coral polyps. Even so-called "reef-safe" sunscreens may have harmful effects, so the less you wear sunscreen in the water the better.
Tip: The UPF rating is also an indicator of textile quality! For sun protection, a fabric's weaving must be tight and UV-resistant. As such, clothes with high UPF are likely to last a long time and stand up well to outdoor activity and washing!
The best snorkeling swimsuits are also form-fitting and secure
If you want to get a good snorkeling swimsuit, forget the Bikini Village and head to a sports store instead. You want a swimsuit that isn't accidentally going to become loose or untied as you swim through the ocean!
Go for tops with the feel of a sports bra or tank top rather than flimsy spaghetti straps. For bottoms, think comfortable cheeky briefs or boy shorts. I find that thicker waistbands and sturdy drawstrings are the most secure, so keep an eye out for these features on the swimsuit bottoms you shop for! Alternatively, a form-fitting one-piece swimsuit is a great option too!
For some examples of the kinds of swimsuits I'm talking about, here's a list of my personal top 5 favorite swimsuits for snorkeling and beach activity!
Top 5 Best Swimsuits for Snorkeling
1. Waterlust tank tops and swim shorts
Waterlust is definitely one of my favorite water apparel stores. Why? They are the only apparel company I know of who advocates for marine science. In fact, the company was founded by a group of ocean science graduates! As a marine scientist myself, this is certainly something I can get behind!
Waterlust's creature-inspired prints correspond to marine science topics such as coral, shark, and turtle research. Through their blog and social media accounts, Waterlust promotes the findings of these research groups (yay science communication!) and donates 10% of their proceeds to them! You can even learn about whale sharks, sea turtles, and coral reefs on the product pages themselves!
I love their reversible racerback tank tops. These sporty tops are both comfortable and secure enough to be worn both in water and on land! Use them at the gym and for yoga when you're not at the beach! Check out their beautiful rashguards too if you want more coverage and sun protection. For bottoms, you can choose between swim shorts and full-length leggings depending on how much coverage you want!
The company also does its best to minimize the environmental impact of the production and shipping of their items. These swimsuits are made to last! They handle well in the washing machine, have UPF 50+ sun protection, and are made of recycled materials. Your shipping package will be tastefully minimalistic without excessive packing material and be made of recycled paper and cardboard.
2. Athleta tankinis and board shorts
For something a bit more conventional that you can find at a retail store, rather than online, I've had good experiences with some of Athleta's swimwear.
For example, this is a swimsuit from them that I sometimes use for surfing and snorkeling.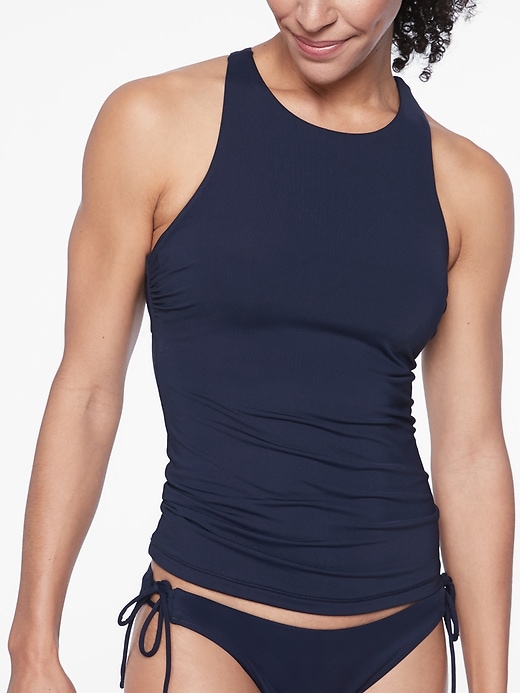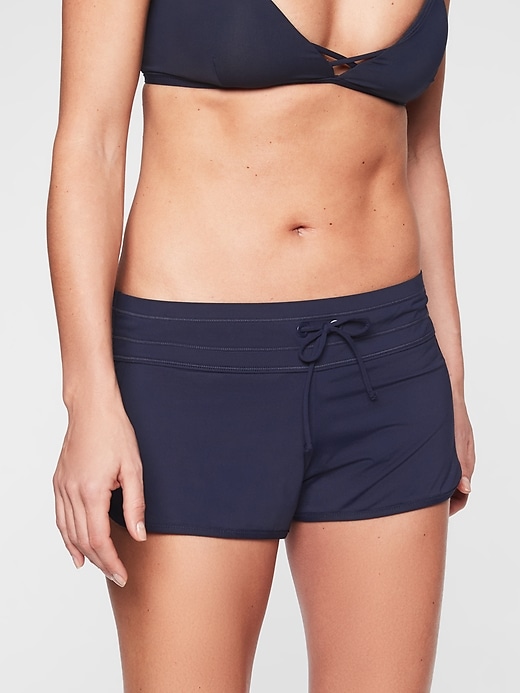 The full-length Maldives High-Neck Tankini offers more coverage than Waterlust's racerback and the Surge Shorts are on the looser side – both great for sliding around on a surfboard! The tankini also features removable cups and adjustable bands behind the neck and back for a custom fit. The support is fantastic (I'm a 36C) and feels like a sports bra.
Similar to Waterlust, these swimsuits are made from recycled nylon and spandex with a UPF 50+ rating.
3. Deakin and Blue swimsuits
Looking for a one-piece swimsuit? Deakin and Blue (based in the UK with worldwide shipping) have an amazing selection of sporty one-piece swimsuits for a wide range of body types up to size 24 and HH cups. If you've been annoyed by the woefully limited size range of most women's swimwear brands, then these suits are for you! They've got some great two-piece bikinis too!
Check Price at Deakin and Blue!
These swimsuits are all made from recycled nylon fiber (recovered from discarded fishing gear and plastic) and have a UPF50+ rating. Deakin and Blue limit also limit their production to a local London-based factory with safe and ethical working conditions and source their textiles from environmentally progressive suppliers.
With awesome support and coverage no matter your shape or size, you won't be accidentally flashing your fellow snorkelers with any of these swimsuits!
4. Batoko swimsuits
For a one-piece with a bit more pizazz, check out these awesome prints from Batoko (also based in the UK with worldwide shipping).
All the swimsuits from this small, independent company, like Waterlust and Deakin and Blue, are made from 100% recycled materials. Batoko also takes special care to avoid over-production (and consequently waste), ensure ethical manufacturing and working conditions, and support ocean conservation initiatives. Their headquarters are even run on renewable solar and wind energy!
5. ToDiveFor bikinis
Ok, here's a bikini option for all you bikini lovers out there!
Though ToDiveFor (love that name) also has some lovely designer one-pieces, bikinis comprise most of their line-up.
Specifically, their Cross Over Bikini Top wonderfully blends looks and functionality for a luxury style that can handle surfing and snorkeling. The thick cross straps and wide, sturdy clip at the back do an excellent job of keeping this bikini in place! The bold white side panels pair best with the Neoprene Detail Briefs in a matching color.
Bonus: The best swimsuit for snorkeling might be a pair of men's swim trunks!
If you're up for a bit of experimentation, you can also try getting a pair of men's swim trunks!
I have a pair of men's boardshorts from Billabong that I got just by making sure my waist and hip measurements would fit with them. It just so happens Billabong's board shorts have a slightly stronger hip-to-waist ratio than other surfing brands like Quiksilver so take note, fellow curvy folks!
For example, my trunks from Billabong have a 32-33 inch waist and a 41-42 inch hip, which suits me perfectly! My waist is 30 inches and my hips are 41.5 inches, but the drawstring cinches up the extra inch or two at the waist (plus I like them sitting a little low anyways). Quiksilver's 32-33 inch waist trunks, on the other hand, only have a 39-40 inch hip, which is too narrow for me.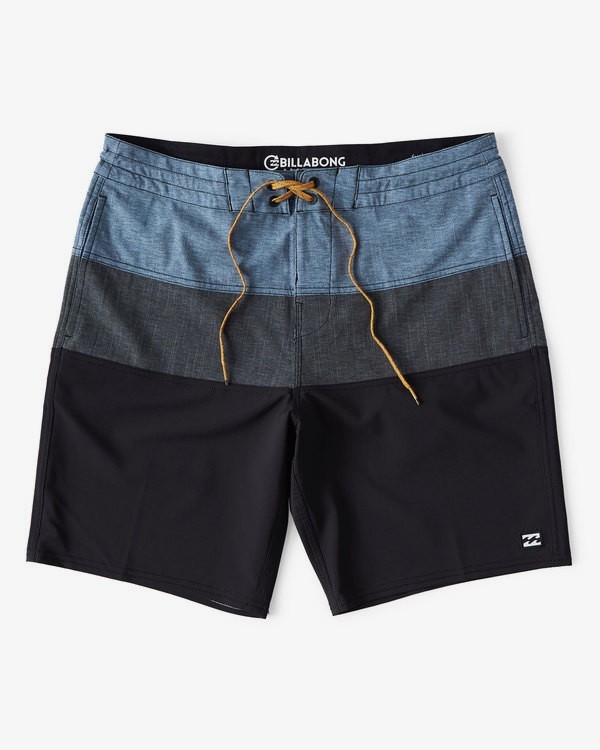 I love these trunks from Billabong because they're comfy and loose and cover my legs almost to my knees. That makes them awesome for sliding around on a surfboard without tenderizing the tops of my thighs! I also enjoy them for casual snorkeling.
With all the different prints to choose from, you can get trunks that match with your favorite bikini or tankini tops! They pair very well with rashguards too!
Also NGL women wearing men's trunks just look hot! Fight me!
However, if you're not feeling the look of men's boardshorts, then your best bet is to go for women's boardshorts from Roxy. They've got the biggest selection if you're jealous of all the variety that men get!
Most of them have thicker waistbands, which I love for both comfort and the look, and a few are even on the longer side, more resembling men's boardshorts!
Caring For Your Swimwear
Once you've got that perfectly-fitting piece made with high-quality materials, how long it lasts depends (in part) on you! The better you take care of your swimwear, the longer it will last and the less its colors will fade.
Here are some general tips for making sure your swimwear can join you on many years of adventures:
Rinse your swimsuit in fresh water after each time you use it. Let it soak for 10-15 minutes if you've been in saltwater or a strongly chlorinated pool.
Don't aggressively twist or wring your swimsuit to dry it. Just squeeze it gently and allow it to hang dry.
Don't dry your swimsuit in full sun. The excess UV exposure will hasten the degradation of the suit's synthetic fabrics. Ideally, dry your swimsuit in a well-ventilated room, such as a bathroom with the fan on.
Only machine-wash your swimsuit every 2 – 3 uses. Use a gentle detergent for delicate fabrics or for baby clothes. Keep the water temperature cool or cold. Hand-wash instead if you can!
Don't ever tumble dry, bleach, or dry clean your swimsuits!
Best Swimsuits for Snorkeling: Takeaway Points
I hope you're now well on your way to getting the perfect swimsuit for your snorkeling adventure! I guarantee you'll be getting some compliments if you show up in one of the stylish and functional pieces I've mentioned here!
To summarize:
The best swimsuits for snorkeling are both stylish and functional! That means comfort, security, and sun protection go hand-in-hand with an excellent fit and a cute look!
The best swimsuit manufacturers take meaningful steps to reduce their environmental impacts and promote ocean science and conservation!
Don't be afraid to venture into the men's section! Sometimes, men's swim trunks can be the perfect pair to your sporty bikini or tankini top! Just make sure your hip and waist measurements are a good match!
What are your favorite swimsuits for snorkeling, diving, or surfing? Any swimsuits or brands you especially love? Let me know in the comments!
More snorkeling reading:
Disclaimer: Some of the links used in this article are affiliate links. That means I may get a small commission if you buy a product after following the link. If this article helped you, consider it like giving me a little thank you!
If you want to keep updated on the content I produce here at Tide Trek, please consider signing up for my mailing list. At the end of each month I prepare a little round-up newsletter that summarizes new articles I've written, and content I've curated covering all things water sports (even some cool marine science too!)